About the Show
Fashion One Correspondent Search is a six episode reality-based competition series with the mission to find a fashion correspondent in each of the major fashion capitals of the world.
The show seeks to develop each of the potential talents into a perfect match for Fashion One. The series is a combination of in-the-field workshops and challenges to test their reporting skills. Hopefuls are put to the test to see if they have what it takes to be the next Fashion One Correspondent.
In this UK leg of the search, host Antonia O'Brien introduces to us nine talented and experienced candidates as they partake on various tests and challenges with the hopes of becoming Fashion One's Next UK Correspondent. Along the way, the contestants will be guided by judge-mentors in order to further hone their skills in hosting and knowledge in fashion.
The finale show will be the ultimate test for the remaining hopeful correspondents as they cover live the events and shows during London Fashion Week. The competition peaks as each candidate scurries to get the best coverage and the interesting interviews with the top personalities of the event.
A fashion correspondent is not just a pretty face - it's someone who can get the exclusive access and deliver the story with style and confidence.
The Host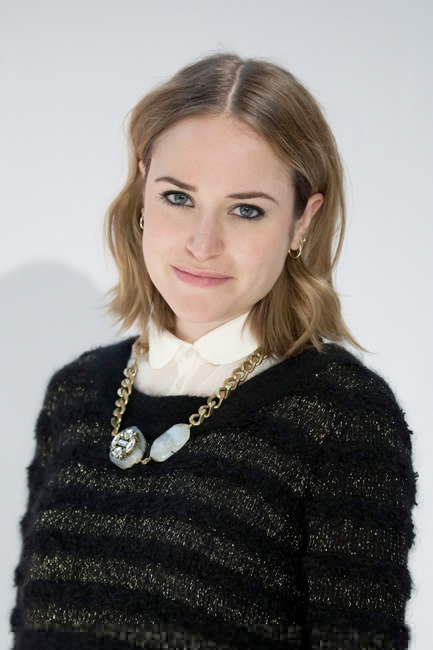 Antonia launched her career in 2008 as the face of MY-TV, the small-screen channel of upscale e-tailer my-wardrobe.com, where she delved into the well-stocked armoires of fashion high-rollers such as Diane von Furstenberg, Sienna Miller and Nicole Richie.
A roving reporter at London Fashion Week, Antonia has been broadcast on stylist.co.uk and graziadaily.co.uk, and earlier this year on E! Entertainment where she held the fort as fashion commentator at the Orange BAFTA Awards.
You'll also see her heading up Lorraine's weekly fashion feature, Style Dilemma and as an ambassador for Fashion Targets Breast Cancer.
Q & A with Antonia
What makes a good fashion correspondent? What do you look for in finding the next Fashion One Correspondent?

I'm looking for a charming, witty and personable girl who has international appeal. It is of paramount importance that she has that something special in front of the camera, a certain charm that makes you want to watch her every week.

What will viewers expect in this London leg of the Fashion One Correspondent Search? What makes this leg exciting?

The London search introduces a diverse and dynamic group of girls who are all very different; they all had their different strengths and weaknesses. The girls are a great representation of what makes London so fantastically unique, they're a great mix of the fashion-forward, the chic, the retro and the romantic. This series is in the fashion capital of the world - where else could be better?

What makes London different/unique from the other Fashion and Entertainment capitals of the world?

London is a supportive hub for up-and-coming fashion talent; we are a city full of fashion-loving people who are always looking forward to the new and exciting. From London Fashion Week, the On and Off schedule to Fashion East and London Fashion Weekend, London pushes fashion further than our peers in New York, Paris and Milan. The city has a unique fashion pulse, thriving off street style photography, our history, our fashion story and our established brands that are standing on an international platform, representing everything that London is.

Which of the tasks the contestants did is your favorite?

The task that really tested the girls was when they hit Vox Pop, Soho after the clubs and bars had closed. This was such a fantastic task because the girls had to think on their feet and engage with a very unlikely crowd who were not cooperating, so they had to be savvy. This was the week that the girls really had to sink or swim.

If you were to put in another task in the competition, what will it be?

I think that girls should have worked together, like being part of a crew, where no one person is in the spot light. This is a really important quality, perhaps we could have tested it by the girls cooking for the judges and crew - that would be a fairly stressful situation, wouldn't it?

Any advice for the fashion correspondent or for those who want to be one?

My simple advice to anyone wanting to work in TV, as cliché as this sounds, is to absolutely be yourself. There is no point pretending to be something you're not. And of course always be polite and remember your manners, you're never better than anyone else.

What are you looking forward for the fashion industry in 2013?

I'm looking forward to London Fashion Week in February to see all of the new season collection; I am most excited to see what Stella McCartney, Erdem and Jonathan Saunders show for Autumn/Winter 2013. There are fantastic fashion events coming up which I am excited about, I love the buzz at London Fashion Weekend and what will people be wearing on the red carpet at The Baftas?